Annual general meeting 2015
The fifth annual meeting of the Landsvirkjun and Alcoa Fjarðaál Sustainability Initiative was held in the Fáskrúðsfjörður education centre on Wednesday, 6 May 2015, from 14:00 to 18:00. The special themes of this meeting were economic affairs and the Sustainability Initiative's economic indicators.
Meeting chair: Gunnar Jónsson, Fjarðabyggð municipal secretary.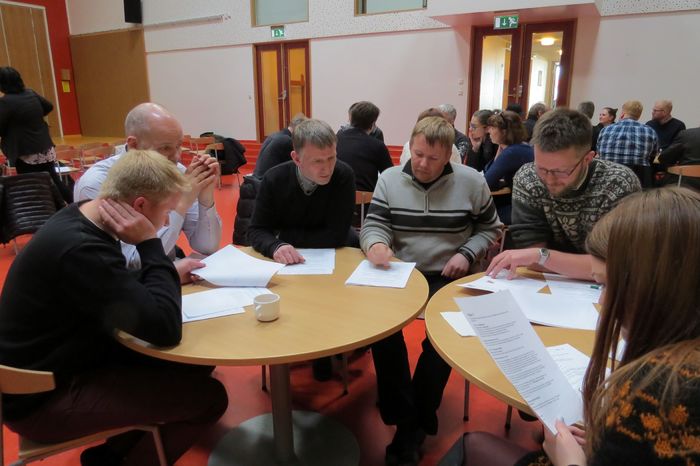 ---
Agenda
14:00: Opening - Geir Sigurpáll Hlöðversson, Alcoa Fjarðaál
14:10: Results of the Sustainability Initiative's 2014 monitoring - economic indicators: Georg Þór Pálsson, Landsvirkjun; Ágústa Björnsdóttir, Alcoa Fjarðaál; Guðrún Á Jónsdóttir og Sigrún Víglundsdóttir, Austurbrú
14:30: The economic metrics of local authorities, Guðlaugur Sæbjörnsson, Director of Finance, Fljótsdalshérað.
14:50: Development and the main economic variables of society - what criteria gauge success? Ásta Kristín Sigurjónsdóttir,director of the Fjarðabyggð employment and development affairs programme.
15:10: Coffee break
15:40: Capital and sustainability - a new direction for sustainability indicators, Jón Skafti Gestsson, economist at the engineering office Verkfræðistofa Jóhanns Indriðasonar
16:10: Discussion
16:20: Group work

What characterises good economic indicators?
Are economic indicators lacking in the Sustainability Initiative? Which ones?
Review of the Initiative's economic indicators: 3.1 Tourism, 3.2 Fjarðaál exports, 3.3 Economic gain for the gross national product.
Review of the Initiative's economic indicators: 3.4 Quantity of goods and services produced in Iceland, 3.5 The financial standing of local authorities

16:50: Presentation of group work conclusion
17:15: Some outstanding results of the Initiative's 2014 measurements

Moving the mouth of the Lagarfljót and the Jökla, Helgi Jóhannesson, Landsvirkjun
Results of fluoride measurements in grass; relations with the community, Dagný Björk Reynisdóttir and Dagmar Ýr Stefánsdóttir, Alcoa Fjarðaál

17:40: Amendments to indicators - comments and annual meeting approval of amendments
---
Summary
Opening: The meeting was opened by Geir Sigurpáll Hlöðversson; in his address, he touched on the history of the Sustainability Initiative, which was founded in 2004. The 2015 meeting today is the fifth one, with such annual general meetings providing a forum for amending Initiative metrics and linking the community with the programme.
Georg Þór Pálsson described Landsvirkjun's monitoring of the economic indicators during 2014, as well as mentioning the 2014 decision not to run a visitor centre at Végarður, as had been done ever since 2004. Instead, a guide was stationed twice a week at Kárahnjúkar Dam in order to receive visitors. Georg showed traffic figures from the Road and Coastal Administration's counter at Desjará Dam and compared them to those from other East Iceland routes.
Alcoa Fjarðaál's 2014 monitoring of economic indicators was addressed by Ágústa Björnsdóttir, who pointed out how the monitoring plan for Indicator 3.2, Fjarðaál exports, refers to net exportation, without that quantity having ever been explained, so that she proposed the amendment of this indicator. As for Indicator 3.4, Amounts of goods and services produced in Iceland, she proposed that that indicator be cancelled, because such estimates are so unreliable that it is imprudent to draw conclusions from them.
Sigrún Víglundsdóttir discussed Austurbrú's monitoring of economic indicators, observing that Indicator 3.1a, on employment percentages in the hotel and restaurant industry, is no longer in effect, since Statistics Iceland stopped publishing the relevant data in 2005.
The finance director of Fljótsdalshérað, Guðlaugur Sæbjörnsson, presented data on East Iceland population trends and employment numbers. Furthermore, he explained trends in tax revenues, as well as the tax base of local income tax. In regard to local authority margins, he noted that they should amount to some 15% in order for municipalities to be fully capable of operating and of fulfilling their obligations.
Ásta Kristín Sigurjónsdóttir reported interesting social metrics, in addition to a possible connection between the Sustainability Initiative and ideas about an East Iceland statistics office.
Several definitions of sustainability were introduced by Jón Skafti Gestsson, who noted that even if the meaning of the term is unclear, this in no way means it is useless. He continued by describing the distinction between strong and weak sustainability and between flow and stock indicators. Ordinary flow indicators like the national product or fish catch figures are risky, because they do not portray the underlying status of the capital which upholds them. It would make more sense to take note of stocks instead, for instance of the size of fish stocks or of public debt and assets. In closing, he presented examples of possible economic indicators for the Sustainability Initiative.
Group assignments and conclusions
Helgi Jóhannesson told about the relocation of the shared estuary of the Lagarfljót and the Jökla, as this measure was described at the 2014 annual meeting of the Initiative. After the first relocation attempt, the estuary immediately became closed again. Although plans then called for trying once more in the autumn, local people were concerned about spring floods, so a second attempt was made straight away in June 2014. This attempt succeeded, so that by January 2015 the old estuary was blocked off. The level of the groundwater table at Húsey dropped as soon as the estuary had been transferred.
Dagný Björk Reynisdóttir and Dagmar Ýr Stefánsdóttir went over the results of fluoride measurements as well as communications with the community about these measurements. The weather was discovered to have a major impact on fluoride concentrations. Subsequent to an equipment malfunction and the emission of too much fluorine into the atmosphere, the community felt worried, so that Alcoa Fjarðaál worked together with the Environment Agency and the Food and Veterinary Authority to pass on information to the community.
Indicator amendments
The Supervisory Board had submitted motions to the meeting for amending indicators. These proposals for amendments were approved with only minor changes in wording.
Discussion
The Environment Association's representative on the Supervisory Board, Fríða Björg Eðvarðsdóttir, spoke at the end of the meeting. Reviewing the Association's involvement in the Sustainability Initiative, she told how it had had a representative on the Supervisory Board from the beginning, and had actively participated in the Advisory Group while the Initiative was taking shape. Not only had the Association's representatives put a lot of work into the Initiative, but were proud of having done so. During this time, the Association had been contemplating its participation in the programme, and currently wants to recommend that the Initiative convene the Advisory Group in order to create a fresh vision for the programme, as well as to open up discussion on the indicators and the programme's future. The future of the Environment Association in the Supervisory Board needs to be discussed, along with whether some other body ought to take the Association's place. Fríða added that the Association officers are of one mind that ten years ago, they would have preferred the prospect of a future without the hydropower plant and aluminium smelter. However, their participation in shaping the Sustainability Initiative was meant to channel matters into their best possible course. In closing, she thanked Austurbrú for excellent, professional work, together with Alcoa and Landsvirkjun for the whole business of managing the Initiative; finally, she wished the programme all the best.
The meeting ended with a summary by Gunnar Jónsson.
---
Presentations (Icelandic)
---
Group work
Four questions were assigned to four groups - one to each group. Each group chose its own chair, as well as a spokesperson to report on the results.
Group 1: What characteristises a good statistical indicator?
Results:
It relates to developments in a particular stock or population
It measures (or is capable of estimating) whether a particular resource is being depleted
It registers long- as well as short-term developments
It reveals social developments and social structure
It provides for comparisons.
Group 2: Sustainability and the economy. How might the economic aspect of the Sustainability Initiative be enhanced?
Results:
By comparing energy that is used in the region to that produced in the region
By linking indicators to regional businesses
By job increases -> gender glasses as a component of a social indicator
By involving more parties in the Initiative, such as an East Iceland statistics office, in order to increase the number of indicators
By showing the distribution of Fjarðaál employees (a social indicator)
By the number of new businesses (as a percentage of those currently operating)
By general statistics which fill out the picture
By comparing it with Iceland as a whole? With other regions of the country?
By relating an income indicator with influential factors, such as hours of work
By the economic growth of East Iceland - can it be measured?
Group 3: Review of the Initiative's economic indicators:
Results:
Indicator 3.1 - The tourist industry
Percentage of jobs in hotel and restaurant operations in East Iceland, as well as in the whole country: Quit if no information can be obtained [A comment was voiced from the floor that this information was available from the Icelandic Tourism Board, but when a query was sent after the meeting to the Tourism Board, it referred to Statistics Iceland.]
Annual number of overnight stays in East Iceland hotels/guest houses: Information should be added on the utilisation of accommodation facilities - what should be considered high or low?
Number of air passengers to and from Egilsstaðir: Information should be added on utilisation in reference to stock indicators; comparisons should be made.
Number of visits to Fjarðaál and to Fljótsdalur Power Station: This indicator says nothing about the number of tourists in the region. We need added information on this matter: what is it that we want to reveal? - Iceland as a whole, not just East Iceland.
Indicator 3.2 - Fjarðaál exports
Refer Ágústa's observations to the Supervisory Board, for instance concerning net exports. A comparison of Iceland's total export of goods with Alcoa Fjarðaál's exports could be useful if it were presented properly. Consider exports rather than net exports.
Indicator 3.3 - Economic gain for the gross national product
Group 4: Review of the Initiative's economic indicators:
Results:
Indicator 3.4 - Quantity of goods and services produced in Iceland
A great deal of discussion occurred on this indicator, leading to the conclusion that the subject still needs measuring, even though the objection was voiced that it is considerably subjective. It is important to obtain more data from businesses and for Alcoa to crunch it further.
Indicator 3.5 - The financial standing of local authorities
---
Attendant list
| Name | Institution, company or association |
| --- | --- |
| Ágústa Björnsdóttir | Alcoa Fjarðaál |
| Árni Jóhann Óðinsson | Landsvirkjun |
| Ásta Kristín Sigurjónsdóttir | Fjarðabyggð |
| Dagbjartur Jónsson | Landsvirkjun |
| Dagmar Ýr Stefánsdóttir | Alcoa Fjarðaál |
| Dagný Björk Reynisdóttir | Alcoa Fjarðaál |
| Einar Mathiesen | Landsvirkjun |
| Freyr Ævarsson | Fljótsdalshérað |
| Fríða Björg Eðvarðsdóttir | Landvernd |
| Geir Sigurpáll Hlöðversson | Alcoa Fjarðaál |
| Georg Þór Pálsson | Landsvirkjun |
| Gerður Björk Kjærnested | Landsvirkjun |
| Guðlaugur Sæbjörnsson | Fljótsdalshérað |
| Guðrún Á. Jónsdóttir | Austurbrú |
| Gunnar Jónsson | Fjarðabyggð |
| Helena Eydís Ingólfsdóttir | Þekkingarnet Þingeyinga |
| Helga Guðrún Jónasdóttir | Fjarðabyggð |
| Helgi Jóhannesson | Landsvirkjun |
| Hilmar Sigurbjörnsson | Alcoa Fjarðaál |
| Hjalti Jóhannesson | Rannsóknamiðstöð Háskólans á Akureyri |
| Ívar Páll Jónsson | Landsvirkjun |
| Jóhannes Ragnarsson | Tól og tæki sf |
| Jón Ingimarsson | Landsvirkjun |
| Jón Skafti Gestsson | Verkfræðistofa Jóhanns Indriðasonar |
| Jóna Árný Þórðardóttir | Austurbrú |
| Jóna Bjarnadóttir | Landsvirkjun |
| Karl Friðriksson | Nýsköpunarmiðstöð Íslands |
| Ketill Hallgrímsson | Alcoa Fjarðaál |
| Kristín Ágústsdóttir | Náttúrustofa Austurlands |
| Marinó Stefánsson | Fjarðabyggð |
| Ottó Valur Kristjánsson | Landsvirkjun |
| Ragnheiður Ólafsdóttir | Landsvirkjun |
| Ruth Elfarsdóttir | Alcoa Fjarðaál |
| Sigbjörn Nökkvi Björnsson | Landsvirkjun |
| Signý Ormarsdóttir | Austurbrú |
| Sigrún Víglundsdóttir | Austurbrú |
| Sigurður Ólafsson | Gagnráð |
| Sigurþór Örn Arnarson | Landsvirkjun |
| Sindri Óskarsson | Landsvirkjun |
| Sverrir H. Sveinbjörnsson | Landsvirkjun |
| Valdimar O. Hermannsson | HSA |
| Vilhjálmur Jónsson | Landsvirkjun |
| Vordís Eiríksdóttir | Alcoa Fjarðaál |