Annual general meeting 2018
The 2018 annual general meeting of the Sustainability Initiative was held in Egilsstaðir, Hótel Hérað, on May 8, from 14:00 to 18:00. The focus was set on utilization for the benefit of society in East Iceland.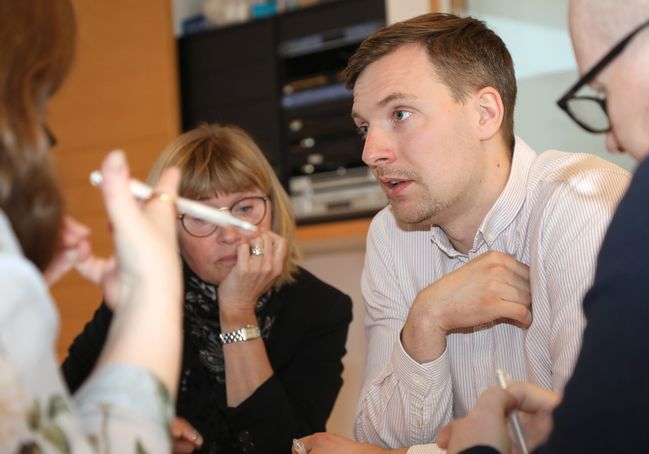 Meeting chair: Björn Ingimarsson mayor of Fljótsdalshérað
---
Agenda
14:00 Meeting opened, Óli Grétar Blöndal Sveinsson, Landsvirkjun
14:10 Beuty is in the eye of the beholder: Residents and the importance of living conditions. Vífill Karlsson University of Akureyri and SSV adviser.
14:40 What is needed for the municipality Fljótsdalshérað to use more data collected in the Sustainability Initiative?, Helga Guðmundsdóttir, Education Manager at Fljótsdalshérað.
14:55 Sustainability Project, What is it?, Anna Berg Samúelsdóttir, Environment Manager in Fjarðabyggð.
15:10 Data, Information, Knowledge and Wisdom!, Jóna Árný Þórðardóttir Director of Austurbrú.
15:25 Refreshments
16:00 Group work. Controlled group discussion on "How Sustainability Project can best serve East Iceland" Dagmar Ýr Stefánsdóttir, Alcoa Fjarðaál.
17:00 Interesting monitoring results
17:40 Amendments to indicators – comments and annual meeting approval of amendments.
17:50 Summary and discussion.
---
Summary
Chairman was Björn Ingimarsson, Major in Fljótsdalshérað municipal.
Participants at the annual meeting were approximately 40 and were actively involved in group work, entitled "Utility for Society", related to the vision and development of the project. Declaration of change of indicators 1.17 Quality of schools, 1.18 Social welfare and 1.20 Availability of cultural events was submitted to the annual meeting.
Óli Grétar Blöndal Sveinsson, Managing Director of Development at Landsvirkjun, opened the meeting. He exceeded the goal of the project, which first was focused on the construction of Kárahnjúkar Power Station and Fjardaál. Everyone agrees that the project has been successful and is well utilized within Landsvirkjun and Fjardaál, where interested are directed to the web. However, users are a rather narrow group, and it is important to advertise the project well. The goal of this meeting is how the project can benefit a larger group of users.
Vífill Karlsson, Associate Professor at the University of Akureyri, and SSV Adviser, spoke on the topic of "Beauty is in the eye of the beholder: Residents and the importance of living conditions". Vífill told about a population survey conducted among the regions not including the capital area, the north east and eastern part of Iceland. He reviewed the implementation, interpretation and conclusion of the survey. What attracts people or pushes them away from their homes? Local authorities can also compare with other selected municipalities. The survey was conducted in a workplace area, which explains housing rather than localization. The special groups were women, young people (18-34 years old) and the group "Countryside" was examined. What matters most, in the areas away from the capital area, for living conditions is Internet, public transport and road systems. What came from the whole country for good living conditions is happiness, good human life, employment, nature, road issues, issues of children's families and a housing issues.
Helga Gudmundsdóttir, Education Manager at Fljótsdalshérað, discussed about "What is needed for the municipality Fljótsdalshérað to use more data collected in the Sustainability Initiative?" Helga believes that there is a need to look at the indicators in specific municipalities so they can monitor the state of the issues under review and development in each municipality. In addition, she embarked on community-related projects related to education and training of employees, newcomers and the composition of that group, online service and road network. In addition, she mentioned the composition of the labor market and the quality of services in various areas. In terms of economic indicators, she mentioned the cost of living here in eastern Iceland. It would also be preferable to have additional data related to cultural services, sports facilities and the activities of NGOs in each area.
Anna Berg Samúelsdóttir, Environment Manager in Fjarðabyggð, discussed "Sustainability Initiative, what is it?". She sent a query to everyone in the Fjarðabyggð office if they used the sustainability program in their work. They knew about the project, but did not know the website, did not use the data or the data was to no use for them. She reviewed what sustainability is and the beginning of that work since 1987. Assessment of nature, society and economy. The sustainability program retrieves data and now it has become 11 years old and can be read in the data for the first time. The essence of the project is the development that Kárahnjúkar Power Plant and Fjardaal have had in the area. The project is prospective and is interesting, it would be good that indicators were developed but at the same time it is critical to modify them. Data could be added without affecting existing indicators. The project must be introduced for the academic community, institutions and companies.
Jón Árný Þórðardóttir, Director of Austurbrú, delivered a lecture on "Data, Information, Knowledge and Wisdom!" The essence of the work is to gather data and put them in context, creating information that becomes the knowledge and wisdom that society and companies acquire and can avail themselves of. Many databases exist in the country, and the Sustainability Project retrieves data in multiple locations. Dimensions of the project extend to the environment, society and the economy. Austurbrú is working for East Iceland to be a place for people, investors and companies that want to build a sustainable community. Our environment is controled by government policies and all sectors are aimed at sustainable communities. There are regional policies, including the SSA Progressive Plan of East Iceland. One of the objectives of the Progressive Plan was the collection and dissemination of information, which was referred to as the East Iceland Research Center or the East Iceland Statistics. What is missing is the interpretation of data - because the data exist and considerable work is in interpreting the data in our territory. Is there a prerequisite for expanding data collection and information from the area from the Sustainability Initiative, and is the community planning to make use of that data collection?
Árni Jóhann Óðinsson discussed an assessment of the sustainability of Fljótsdalsstöð according to International Assessment Key (HSAP, http://www.hydrosustainability.org), conducted in September 2017. The assessment is made by neutral entities who have certain requirements to implement it and the results are presented in a standard manner to facilitate comparison. The method has been developed for many years and is recognized by a very diverse group of beneficiaries. Of the 17 components examined for Fljótsdalsstöð - the station received full house increments in all sections except 6 and there was one deviation from the best-known methodology (Proven Best Practice). Basically, the results are different and many data, interviews with many interviewees, and site inspections in the power plant area. In addition, Árni introduced an inventory of the Kárahnjúkar power plant license issued by the National Energy Authority last year.
Dagný Björk Reynisdóttir Environmental specialist at Alcoa Fjarðaál, told us about the work that concerns Alcoa's Social Responsibility, which is an increased impetus for responsibility to people and the environment. Social responsibility covers sustainable development, expectations of stakeholders, laws and international rules are respected and increased open and good relations. Gender equality plays a major role in Alcoa, environmental education, education and retraining, safety and health issues, volunteer work and community relations. The community report draws these factors together for each year and adds an overview. A new home page of the community report was released this year. Already started working on the next report according to the GRI standard. Alcoa is actively involved in combating greenhouse gas emissions.
Björn Ingimarsson made a brief summary of the meeting. Informative meeting that will be used in continuation. Hopefully, East Iceland will be included in the next analysis of the population and living conditions. Items that Jóna, Helga and Anna Berg came in, together with powerful group work, have to deliver a lot to the Supervisory Board. Attention is drawn to the fact that Dagný and Árni explained how the Sustainability Initiative is important in their work for both companies Alcoa Fjarðaál and Landsvirkjun.
In closing, Björn Ingimarsson introduced changes in project indicators and changes were all approved.
Fe Amor Parel Guðmundsson introduced herself. She is a PhD candidate at the University of Iceland and is working on a project called Sustainability Marketing Strategy of Energy Companies in Iceland. Fe said that she is using our website in her work and is going to promote it to others including Universities in Asia, in connection with her work.
In the group work at the meeting, there were 10 questions about the importance and how the Sustainability Project could get involved in working on those issues.
---
Changes to indicators
In Annual meeting 2018 following changes to indicators were approved.
1.17 Quality of Schools
a-section
What is measured?:
Was: Results from Icelandic National Exams in compulsory school (4th, 7th and 10th grade) in East Iceland and nationally
Is now: Results from Icelandic National Exams in compulsory school in East Iceland and nationally.
Rationale for changes: New regulation came to force in March 2017 stating that Icelandic National Exams shall be held in spring semester of 9th grade instead of 10th grade before.
b-section
What is measured?:
Was: Percentage of unlicensed teachers in compulsary schools in East Iceland vs. nationally. (Project effect: induced).
Is now: Percentage of personnel teaching without certification in compulsary schools in East Iceland vs. nationally.
Rationale for changes: In Icelandic "grunnskólakennari" (primary school teacher) is a protected title and therefor no such thing as an unlicensed "grunnskólakennari".
1.18 - Community wellbeing
b-section
What is measured?:
Was: Number of accidents per km on selected roads. (Project effect: induced).

Egilsstaðir - Reyðarfjörður
Fáskrúðsfjörður - Reyðarfjörður
Egilsstaðir - Hallormsstaðaskógur

Change: Added the route: Reyðarfjörður - Norðfjörður
Rationale for changes: Neskaupstaður and Eskifjörður are within the employment area of Alcoa Fjarðaál and therefore it is necessary that measurements of accident frequency include this route.
1.20 Cultural Events
What is measured?
Was: The number of cultural events per year in East Iceland. (Project effect: induced).
Is now: Satisfied population with the availability of cultural events. (Project effect: derivative).
Targets
Was: Number of cultural events greater than or equal to the baseline.
Is now: Not applicable, monitoring only.
Rationale for changes: The argument for the change indicator was discussed in group work at the 2011 Annual Meeting. The following were stated:
Problem: Measurement of inaccurate and subjective assessment of information gathering based on outcome. The definition of "cultural events" is not clearly defined in the monitoring plan.
The conclusion of the working group was that this indicator was very important for the project and it was necessary to measure development in some way. Problems concerning the definition of "cultural events" were discussed and decided that satisfaction was a better method of measurement than counting advertised events. Instead of stiff definition of what a cultural event is, it was proposed to allow respondents to decide what a cultural event is, without having to define it further.
The question may sound as follows: "How satisfied are you with cultural events in the area?" The respondents then gave the opportunity to express their satisfaction in a measurable manner with subjective judgment that does not require definitions of the word "cultural event."
Comment on this measure is that in addition to the availability of cultural events, participation in cultural events could be explored.
Steering group entrusted this method of measurement in practice. No decision was made on a survey of participation in cultural events.
---
Attendance list
| Name | Institution, company or association |
| --- | --- |
| Aníta Júlíusdóttir | Landsvirkjun |
| Anna Alexandersdóttir | Austurbrú |
| Anna Berg Samúelsdóttir | Fjarðabyggð |
| Árni Jóhann Óðinsson | Landsvirkjun |
| Björn Ingimarsson | Fljótsdalshérað |
| Dagbjartur Jónsson | Landsvirkjun |
| Dagmar Ýr Stefánsdóttir | Alcoa Fjarðaál |
| Dagný Björk Reynisdóttir | Alcoa Fjarðaál |
| Fe Amor P. Guðmundsson | HÍ |
| Freyr Ævarsson | Fljótsdalshérað |
| Guðmundur Kröyer | Alcoa Fjarðaál |
| Guðrún Á. Jónsdóttir | Austurbrú |
| Guðrún Óskarsdóttir | Náttúrustofa Austurlands |
| Gunnar Jónsson | Fjarðabyggð |
| Helga Guðmundsdóttir | Fljótsdalshérað |
| Helgi Jóhannesson | Landsvirkjun |
| Hilmar Sigurbjörnsson | Alcoa Fjarðaál |
| Hjalti Jóhannesson | Rannsóknarmiðstöð HA |
| Ívar Páll Jónsson | Landsvirkjun |
| Jón Steinar Garðarsson Mýrdal | Austurbrú |
| Jóna Árný Þórðardóttir | Austurbrú |
| Jóney Jónsdóttir | Austurbrú |
| Kristín Ágústsdóttir | Náttúrustofa Austurlands |
| Lilja Dögg Björgvinsdóttir | Austurbrú |
| Magnús Þór Ásmundsson | Alcoa Fjarðaál |
| Ottó Valur Kristjánsson | Landsvirkjun |
| Óðinn Gunnar Óðinsson | Fljótsdalshérað |
| Óli Grétar Blöndal Sveinsson | Landsvirkjun |
| Páll Freysteinsson | Alcoa Fjarðaál |
| Ragna D. Davíðsdóttir | Fjarðabyggð |
| Ragnheiður Ólafsdóttir | Landsvirkjun |
| Sigbjörn Nökkvi Björnsson | Landsvirkjun |
| Signý Ormarsdóttir | Austurbrú |
| Sigrún Blöndal | SSA |
| Sigrún Víglundsdóttir | Austurbrú |
| Sigurður Guðni Sigurðsson | Landsvirkjun |
| Sigurður Ólafsson | Síldarvinnslan |
| Sindri Óskarsson | Landsvirkjun |
| Smári Kristinsson | Alcoa Fjarðaál |
| Snorri Styrkársson | Fjarðabyggð |
| Vífill Karlsson | SSV |