Annual general meeting 2016
The sixth annual meeting of the Landsvirkjun and Alcoa Fjarðaál Sustainability Initiative is being held in Valaskjalf, Egilsstaðir, on Tuesday, 3 May 2016, from 14:00 to 18:00.
This time, the focus is on the status and future of the Initiative.
Meeting chair: Björn Ingimarsson, mayor of Fljótsdalshérað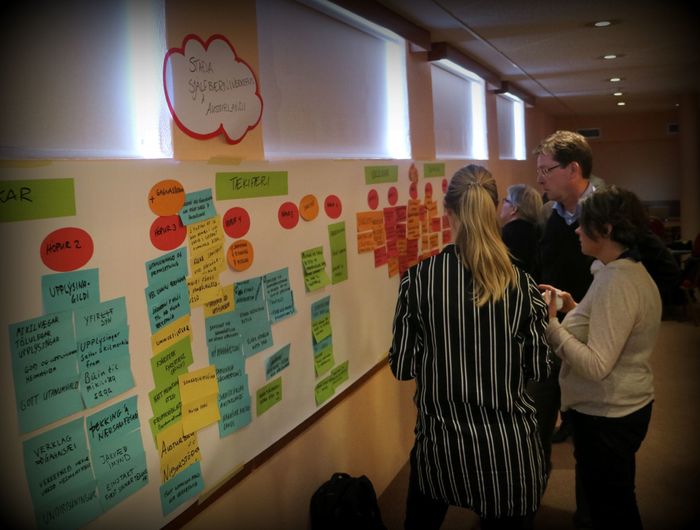 ---
Agenda
14:00: Opening, Ragna Árnadóttir, Landsvirkjun
14:10: The Sustainability Initiative's status and the Supervisory Board's vision (Icelandic), Árni Jóhann Óðinsson, Landsvirkjun
14:35: The sustainability initiative in North Iceland (Icelandic), Valur Knútsson, Landsvirkjun
14:50: The East Iceland Forward Action Plan (Icelandic), Björg Björnsdóttir, officer for local government affairs at Austurbrú
15:05: Coffee break
15:35: Group work - Situational analysis of the Sustainability Initiative, Jóhanna Harpa Árnadóttir, Landsvirkjun and María Ósk Kristmundsdóttir, Alcoa Fjarðaál, leading the work.
16:50: Presentation of the main conclusions from group work (Icelandic).
17:10: Intriguing results of 2015 monitoring
17:40: Motions for amending sustainability indicators (Icelandic).
17:50: Summary / discussion
---
Summary
The meeting is being chaired by Björn Ingimarsson, mayor of Fljótsdalshérað.
Opening: Ragna Árnadóttir, deputy CEO of Landsvirkjun, opened the meeting. In her address, she spoke both of the assets innate to the Sustainability Initiative and also of how imperative it is to examine whether modifications may be needed to ensure that these assets realise their utmost potential.
Árni Jóhann Óðinsson outlined the Initiative's history and its status, in addition to raising questions and ideas concerning its development. Since it has become clear that the Icelandic Environment Association has decided to cease its participation in the Initiative, Árni thanked it for fruitful cooperation and significant contributions.
Valur Knútsson told about the construction of Þeistareykjar Power Station as well as the sustainability initiative which is related to this undertaking and is currently being launched in North Iceland. While the initiative programme there will be smaller than the one here in the East, the preliminary work here will serve for experience, communicated through extensive consultation on how the Initiative here has grown. Over 100 indicators have been proposed in the North, but work is ongoing to reduce that number, so that monitoring can hopefully commence this summer.
Björg Björnsdóttir, the person in charge of local government affairs at Austurbrú, described the East Iceland Forward Action Plan, including the residents conference "Austurlandið mitt" (My East Iceland) which was convened on 15 March 2016 in connection with re-examining the Forward Action Plan. As Björg pointed out, economic indicators are badly needed for this region of Iceland, even though such data is being processed by various entities that to date remain isolated and on their own. Since the Sustainability Initiative will celebrate its tenth anniversary next year, that might provide an occasion to discuss greater cooperation between the entities which monitor social developments in the East.
María Ósk Kristmundsdóttir and Jóhanna Harpa Árnadóttir led the group work, in which those attending were divided into 6 groups to discuss the strengths, weaknesses, opportunities and threats (SWOT) involved in the Sustainability Initiative. Although group conclusions are still being compiled, the discussions clearly brought out a need for further cooperation and promotion of the Initiative. See summary with results.
Hákon Aðalsteinsson reported on monitoring which concerns Kárahnjúkar Power Plant. As he observed, changes that are noticed in the environment are difficult to trace to plant construction because other factors play a part. One example is how reindeer numbers are controlled by hunting, so that counting the animals says nothing about the impact of the power plant. Moreover, some changes happen very slowly and remain immeasurable for decades. Hákon raised the question of whether the Sustainability Initiative will demand the continuation of indicator monitoring, even in cases where the Environment Agency gives permission to cease monitoring.
Guðmundur Sveinsson Kröyer went over the measurements of fluoride in vegetation and sheep mandibles from the vicinity of Reyðarfjörður fjord. Guðmundur put the results in context with weather conditions such as precipitation and temperature inversions, saying that some people have wondered whether Iceland's long days of summer sunlight make plants more susceptible to pollution than elsewhere.
Before the meeting, there had been proposals for amending 5 sustainability indicators; every one of the amendments was passed.
Geir Sigurpáll Hlöðversson concluded the meeting with a brief summary. Furthermore, he thanked Fríða Björg Eðvarðsdóttir, the Icelandic Environment Association's representative on the Supervisory Board, for her substantial contribution to the Initiative; for her part, she expressed her best wishes for the Initiative, together with greetings from the Environment Association.
---
Attendance list
| Name | Institution, company or association |
| --- | --- |
| Björn Ingimarsson | Fljótsdalshérað |
| Freyr Ævarsson | Fljótsdalshérað |
| Valur Knútsson | Landsvirkjun |
| Árni Jóhann Óðinsson | Landsvirkjun |
| Pétur Ingólfsson | Landsvirkjun |
| Lilja Bjarnadóttir | Landsvirkjun |
| Ragnheiður Ólafsdóttir | Landsvirkjun |
| Fríða Björg Eðvarðsdóttir | Landvernd |
| Hákon Aðalsteinsson | Landsvirkjun |
| Ragna Árnadóttir | Landsvirkjun |
| Georg Pálsson | Landsvirkjun |
| Ívar Páll Jónsson | Landsvirkjun |
| Kristín Ágústsdóttir | Náttúrustofa Austurlands |
| Aníta Júlíusdóttir | Landsvirkjun |
| Steinn Ágúst Steinsson | Landsvirkjun |
| Marinó Stefánsson | Fjarðabyggð |
| Smári Kristinsson | Alcoa Fjarðaál |
| Guðmundur Sveinsson Kröyer | Alcoa Fjarðaál |
| Páll Freysteinsson | Alcoa Fjarðaál |
| Dagný Björk Reynisdóttir | Alcoa Fjarðaál |
| Geir Sigurpáll Hlöðversson | Alcoa Fjarðaál |
| Gunnar Jónsson | Fljótsdalshérað |
| Signý Ormarsdóttir | Austurbrú |
| Valdimar O. Hermannsson | Brammer |
| Sindri Óskarsson | Landsvirkjun |
| Dagbjartur Jónsson | Landsvirkjun |
| Sverrir H. Sveinbjörnsson | Landsvirkjun |
| Guðmundur Davíðsson | Hitaveita Egilsstaða og Fella |
| Ketill Hallgrímsson | |
| Ragnar Sigurðsson | Alcoa Fjarðaál |
| Hilmar Sigurbjörnsson | Alcoa Fjarðaál |
| Ólöf Vilbergsdóttir | Fjarðabyggð |
| Katrín Reynisdóttir | Austurbrú |
| Sigrún Víglundsdóttir | Austurbrú |
| Jónína Brá Árnadóttir | Seyðisfjarðarkaupstaður |
| Jóna Árný Þórðardóttir | Austurbrú |
| Guðrún Á. Jónsdóttir | Austurbrú |
| Björg Björnsdóttir | Austurbrú |
| Jóhanna Harpa Árnadóttir | Landsvirkjun |
| María Ósk Kristmundsdóttir | Alcoa Fjarðaál |